Engine EA211 1.4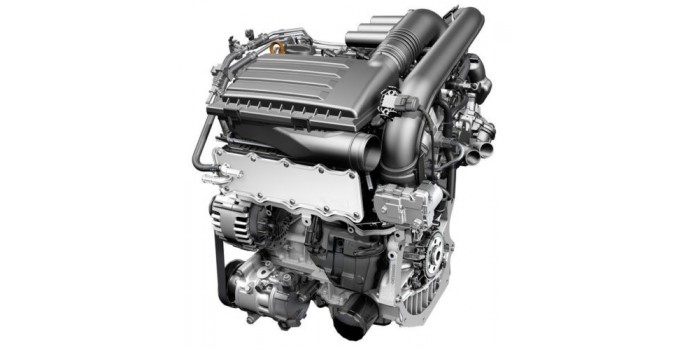 The EA211-series 1.4 TSI is a 1.4-liter four-cylinder gasoline turbocharged engine. Developed for use in VW's MQB-platform, the new EA211 engine family offers a high level of engine standardization. Although it may initially appear that the new 1.4 TSI is a modified version of the 1.4 TSI EA111 engine due to its similar power range, appearance, and displacement, it is, in fact, an entirely new engine based on the experience gained from designing and producing previous small turbocharged powertrains.
The 1.4 TSI EA211 features a lightweight aluminum cylinder block with cast iron sleeves (liners) instead of a fully cast iron block. It is equipped with new forged steel crankshafts and connecting rods. The engine's stroke has been increased to 80 mm while the cylinder bore has been reduced by 2 mm to 74.5 mm. The new components have reduced the engine's weight by 24.5 kg compared to its predecessor. The engine block is inclined 12 degrees rearward, and the exhaust manifold is always located at the rear of the firewall. This allows for greater uniformity between cars built on the MQB platform.
The system has an aluminum alloy DOHC cylinder head with 16 valves and an integrated water-cooled exhaust manifold. The camshafts are now driven by a timing belt (not a chain). The 122 horsepower versions only feature variable intake timing, while engines producing more than 140 horsepower feature both variable intake and exhaust timing. As before, the 1.4 TSI is equipped with hydraulic valve lifters and roller cam followers that provide automatic valve clearance adjustment and low friction.
The system has a turbocharging system with a water-cooled intercooler integrated into the intake manifold. The 1.4 TSI's cooling system has two circuits. A low-temperature circuit flows through the intercooler and turbocharger housing. The integrated exhaust manifold quickly reaches its optimum operating temperature after the engine is started, and it also cools the exhaust gases at full power, extending the turbocharger's lifespan. The catalyst is mounted downstream of the turbocharger for quick warm-up.
Similar to its predecessor, the EA211 1.4 TSI features a direct fuel injection system. The high-pressure pump's maximum injection pressure is 200 bar. The cylinders are equipped with five-hole injectors that deliver fuel precisely into the combustion chambers with up to three individual injections per cycle.